Communication is what drives humans in everyday living. No one can get by simply nodding their head or reading a person's lips. And if communication is so important to how we live, imagine how vital it is in the workplace – where everybody has to hustle, take phone calls, present ideas, and support one another.
According to a workplace communication statistic, 86% of employees and executives agree that the lack of effective communication determines the failure of a workplace. Be that as it may, companies must allocate resources to boost internal communication to improve the employee experience.
In this blog, we'll explore why internal communication is so important in the workplace and how companies can leverage tools like Workplace from Meta to enhance their communication efforts.
What is Internal Communication in an Organization?
Internal communication in the workplace is the exchange of information, ideas, and opinions between employees within an organization. It is a crucial part of any successful business as it helps create a solid organizational culture, fosters collaboration and teamwork, and ensures everyone is on the same page.
Internal communication can take many forms, such as emails, meetings, memos, newsletters, intranet chat rooms, or video conferencing.
When employees feel connected, informed, valued, and connected to the company and peers, they are more engaged, productive, and committed to their work.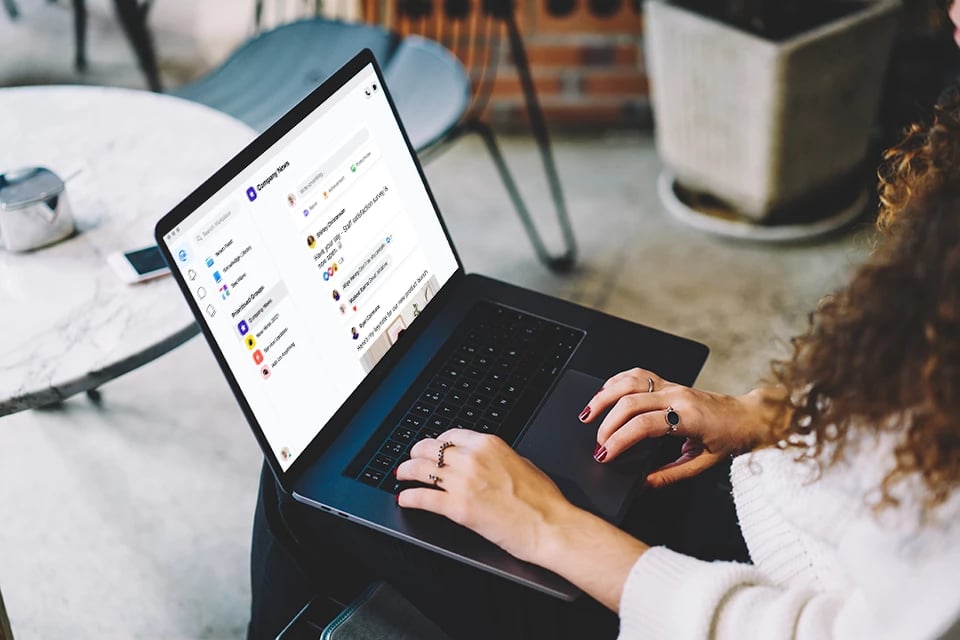 Importance of Internal Communications to Employee Experience
Internal communication is an integral part of any organization's success. It helps to keep employees informed about company news, policies, and procedures. It also helps to build trust and foster collaboration between teams.
Below are some reasons why internal communication is an integral part of the employee experience:
1. It increases employee engagement.
Studies show that as of 2022, 74% of employees feel like they aren't up-to-date on company news, which can make them feel unmotivated and disengaged. However, when internal communication is done right, it can be a powerful way to make employees feel like they belong and work together. Internal communication can improve employee engagement, morale, and innovation by spreading important updates and news about the company and creating an environment where people can talk freely with each other.

2. It empowers the productivity of an employee.
Internal communication helps employees stay informed and connected to the company's mission, vision, values, and goals. By making it clear what needs to be done and how it fits in with the company's goals, employees can make faster, better decisions that contribute to the organization's success. In turn, this makes workers more productive and efficient.
3. It immediately identifies a problem within the workplace.
When encouraged and fostered, internal communication helps create a culture of openness and trust among employees. This allows quick resolutions and improved productivity, morale, and customer satisfaction.
4. It creates opportunities for employees to offer feedback.
Employee feedback can range from ideas for new products and services to suggestions about improving an existing company process. Internal communication also provides a platform for employees to voice their concerns or share successes, allowing them to feel valued and appreciated, which can lead to increased motivation and loyalty.
5. It builds a culture of trust within the organization.
Effective internal communication helps to create a sense of unity among employees by allowing them to share their ideas, opinions, and experiences. This helps nurture an employee-employer sense of trust, leading to improved productivity, advanced decision-making, and increased willpower to resolve problems together.

How does Workplace from Meta help with Internal Communication?
Workplace from Meta is an all-in-one business communication platform from Meta. The platform provides an intuitive workspace for teams that long for easier sharing of information and managing tasks.
Additionally, it offers features such as critical company updates, task management, knowledge-sharing tools, file-sharing capabilities, a safety center, and much more. All these features make Workplace from Meta an ideal platform for companies looking to boost internal communication throughout their organization – while ensuring that each of their employees has a voice.
For more information about the Metaverse, here are related blogs that may be of interest:

What is Good Corporate Communication? Tips and Best Practices

6 Steps to Create a Successful Employee Experience (EX) Strategy

All You Need to Know: What is Employee Morale & How to Improve It?
Conclusion:
Internal communication is an integral part of how employees feel about their jobs, and companies that prioritize it are more likely to see increased productivity, employee engagement, and overall success.
Companies can improve communication and create a more connected, productive, and engaged workforce by using tools like Workplace from Meta and partnering with experts like LineZero.
LineZero is your go-to partner when you want to make your communication strategies more efficient and change the way your employees work. Our digital solutions make it easier for people to work together and get involved.
As a trusted partner of Workplace from Meta, we help with everything from buying and launching Workplace to integrating it, managing change, and getting people to adopt it. With LineZero on your side, it's easy to improve internal communication and take your employee experience to a whole new level!
---
Not using Workplace by Meta yet?
Want to see how Workplace by Meta could take your internal communications strategy to the next digital level and help you to reach everyone across your organization more efficiently and effectively? Give us a shout! Through a live demo of the Workplace platform, we'll help you brainstorm ideas on utilizing Workplace to achieve your organization's goals and objectives around internal communications.
Already Using Workplace by Meta?
If you'd like to explore more opportunities to learn how to use Workplace to improve your internal communications strategy and be part of the Corporate Metaverse, we'd love to chat! Give us a call if you want to learn how to use Workplace to enhance employee interaction and engagement.
❤️ We would love to hear from you! If you have any comments, questions or suggestions, please feel free to leave them below.