Frontline employees are often the face of your business to customers. When they're more informed, engaged and motivated they deliver better experiences for those customers. This could lead to tangible outcomes like increased loyalty and higher revenue. And yet many frontline managers continue to feel disconnected from head office, which stops them fulfilling their potential.
In this guide, you'll learn how to use Workplace to keep your frontline managers connected both with their own teams but also with leaders across your whole organization, enabling them to stay engaged and in touch with your business.
1. Get everyone connected
A first step to enabling your frontline managers to fulfill their potential is to connect them to their teams using technology they're familiar with. Workplace makes this easy by allowing email-less employees to easily set up a Workplace profile with an access code delivered through text message, WhatsApp or personal email.
Once teams are connected, frontline managers can create Groups to manage day-to-day tasks like shift coverage, or to share important company information and meeting notes. Creating these Groups enables large teams (of up to 250 employees) to have their own Chat conversations, so time-sensitive questions get answered fast. And anyone on Workplace can reach a coworker directly if they ever need to get in touch, using a chat message, audio or video call.
We've created an easy-to-use People Manager Guide to drive adoption within your business. Frontline managers can use these to learn about managing teams on Workplace.
2. Make information accessible
Frontline managers can spend a significant amount of time sharing company updates or helping people find the information they're looking for. With Workplace, internal communications and HR teams can reach every employee directly. This reduces the burden on frontline managers, freeing them up to focus on more urgent tasks.
Notifications make sure everyone sees your company-wide announcements. While the Mark as Important feature makes critical updates even more prominent.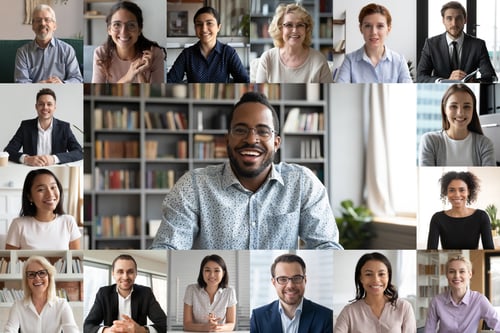 For static resources like benefits, payroll,and time off requests, there's Knowledge Library. This allows you to give teams personalized access to specific categories of information, so you can ensure frontline employees see the content that's relevant to them.
3. Create a Workplace Group for frontline managers
Without the right technology to connect them, many frontline managers end up working in silos. They rarely get the opportunity to chat with peers in other locations. With Workplace, you can create a Group for frontline managers so they can build a sense of community by sharing best practices, celebrating wins and getting to know one another.
Visit the Toolkits section of the Customer Resource Center to find more engagement materials and internal campaign kits.
4. Amplify their voices
Frontline managers should be sharing information across the organization as well as receiving updates and guidance from above. Internal communications managers can use Workplace to create open groups for frontline managers to share their insights with the rest of the company, and make sure leaders are commenting and engaging with their posts.
Features such as Q&As and polls are another great way to ensure that the frontline perspective is heard. Encourage frontline managers to participate by sharing questions from their teams and engaging in the comments sections beneath their posts. You can even host real-time Question and Answer sessions with frontline managers to give desk-based employees a chance to learn more about what happens on the frontline of the business.
Keep your frontline managers engaged and connected
Frontline managers and their direct reports are often your first line of communication with customers. With Workplace, you can connect them to the rest of the company and empower them to share their insights and knowledge. Through them, you can tap into the voice of your customers, which can only impact your business in positive ways.
---
Not using Workplace yet?
Want to see how Workplace could take your internal communications strategy to the next digital level and help you to reach everyone across your organization in a more efficient and effective manner? Give us a shout! Through a live demo of the Workplace platform, we'll help you to brainstorm ideas on how to utilize Workplace to achieve your organization's goals and objectives around internal communications.
Already Using Workplace?
If you'd like to explore more opportunities to learn how to use Workplace to improve your internal communications strategy and be part of the corporate Metaverse, we'd love to chat! Give us a call if you want to learn how to use Workplace to enhance employee interaction and engagement.